Thinking of using WordPress for your brand new business or blog?
You're in good company.
Over 35% of all websites across the world use WordPress to power their websites.
Just think about that for a minute.
That's around 455 million websites using the platform in some form.
So it must be good, right?
In this article I'm going to break down what WordPress is, the benefits of using it and whether you should choose WordPress.com or WordPress.org to host your blog or website.
Ready to learn all about WP?
Great, let's get started.
What is WordPress?
WordPress is a Content Management System (or CMS) that you can use to create and manage a website to reach your audience.
It was originally created in 2003 as an easy way for bloggers to have an online presence.
However, over the years it has grown and evolved to the point that it is now the CMS of choice for one in three websites worldwide.
Many top brands around the world use the software to manage their sites including Disney, Sony, TechCrunch and millions of other sites, including the blog you're reading.
Even the White House uses it to operate its official website!
Why use WordPress?
There's a range of different content management systems out there at the moment including Drupal, Joomla and Ghost.
With such a wide selection of website builders out there, why should you choose WordPress to start your blog or website? Here's a few of the best reasons:
1. It's completely free
WordPress is open-source software, which means it is free to download and use. This makes it a great choice if you need a website but only have a small budget. There are two different ways you can use the software, which I will go into more detail on later
2. It's flexible
Whether you want a single page website for your small business, an eCommerce site to sell your products and services or a website where you can publish regular blog posts, WordPress is entirely flexible to all of your needs. The great thing is that it's scalable, meaning it can grow as your business does
3. Your site can move with you
Looking to change your domain name or move to a different web hosting service? You can take your self-hosted site with you, so you don't have to start all over again! All you need to do is download a file and upload it to your new server
4. It's easy to use
If you're a novice when it comes to digital marketing, WordPress is a great CMS to use. You don't need to know how to use web development languages like HTML, CSS or Javascript to use it. It's very intuitive, it lets you know when there are new updates to download, and you can easily add new functionality. It's so easy to have a blog or website up and running in a day!
5. You can set up different levels of access
If you're looking for other people to have access to your website, you can create additional logins for them as well as varying levels of access
6. You can customise it the way you want
The software comes with free themes so you can easily style your website the way you like, even if you don't have any web design experience. There are also thousands of premade free or paid themes made by third parties that can be installed in minutes. Want something unique? You can make your own or get one made just for you.
7. You don't need to reinvent the wheel
As well as themes, there are over 55,000 plugins on the directory that you can use to customise and enhance your website even further. Some plugins are completely free, others you have to pay a small fee to implement
8. It's very SEO friendly
If you're wanting your website to rank in search engines like Google or Bing, WordPress is a great choice. It automatically produces metadata and semantic mark-up to boost your site, and you can download additional plugins to help improve your search engine optimization even further
9. It's accessible
It works on all screen sizes and devices, as well as with assistive technologies meaning that anyone can use it, regardless of where they are or what their circumstances are
10. You can use it on the go
WordPress comes with mobile apps for both iOS and Android so you can manage your site and make amends while you are out and about. You can even submit and publish blogs directly by email!
11. It's easy to find help if you need it
As so many people use WordPress as their website builder of choice, there are lots of resources out there if you need a little extra support, from blog posts and YouTube videos, through to forums and Facebook groups
What are the differences between WordPress.com and WordPress.org?
So you've decided that you want your brand new website to be on WordPress. That's great news!
The next step is deciding whether you want your site to be made using the hosted .com or self-hosted .org version. They both have WordPress in their name, but they are two very different solutions.
In fact, if you search for 'WordPress' on Google, both options appear as the first and second ranked sites!
So, what's the difference between them?
WordPress.com is an online platform for hosting your website, while WordPress.org is the open-source software that you can use on your own web hosting server.
Still a little unsure?
Let me break it down into the key differences and explain the advantages and disadvantages of each.
What is WordPress.com?
The .com version was created for people who want to use WordPress to look after their website, but don't have the resources or time to set up their own web hosting.
It is operated by Automattic, a trustworthy company founded by Matt Mullenweg, the original creator of WordPress.
With this option, you set up a user profile and you can have your own website on the WordPress.com domain.
The advantage of this is that it is entirely free and you can get set up straight away. You don't need to purchase a domain or server space, and you can use any one of the available free themes to customise your new website.
This option is usually preferred by new bloggers who want to test out their idea for a blog before they commit to buying a domain name and web server space.
What are the main disadvantages of WordPress.com?
You don't get the full functionality of WordPress. You can't install plugins, and there is only limited ability to monetise your site (although you can get a few extra benefits by paying a monthly fee to upgrade).
Unless you start paying, your domain name will be a subdomain of WordPress.com, for example mywebsite.wordpress.com which doesn't look as good in the eyes of your audience.
The free version shows adverts on your web pages, which could also make your site look unprofessional.
Finally, you don't own the content that you produce on the WordPress.com domain and Automattic can remove your site if they think it violates their terms and conditions. This means you could lose your website with all the images, content and hard work you have put into it.
What is WordPress.org?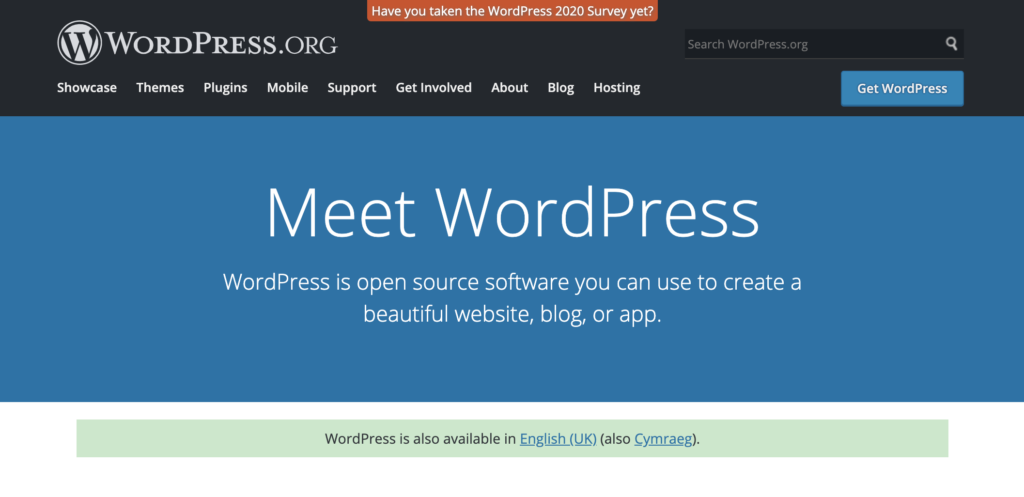 This is the free and open source software that needs to be self-hosted. It is the most popular option used by millions of businesses and bloggers globally.
You can download the software free of charge from the WordPress.org website, ready to upload to your own web hosting server.
This may sound daunting, especially if you don't have a lot of experience or you're not tech savvy. But don't worry, there's a straightforward and easy to understand guide on the WordPress.org website.
Doing this manually takes less than 15 minutes to upload it to your web server and you'll be up and running.
Not only that, but most good web hosts offer tools to install the software on their hosting automatically!
The main disadvantage of WordPress.org is that although the software is free, you do have to purchase server space and a domain name.
Don't worry though, as most beginner web hosting doesn't cost a lot of money to buy and usually works out to be far more flexible and affordable in the long run than paying for WordPress.com.
WordPress.com vs WordPress.org: Which is better?
I hope that this guide has given you more information about the two different types of WordPress available and which is right for your needs.
Which one do I think is the best one to go for?
My personal preference is to go for self-hosting .org option, just like I did with this blog.
That's because you get a lot more control over how your website looks and feels, what features and plugins you add to it and can easily monetise and start making money from your blog.
More importantly you own everything when you self-host.
WPBeginner has a great analogy about WordPress.com being like renting a house while WordPress.org being like owning a house. With WordPress.com you have limited control over what you can do, while with WordPress.org you have full control and can do what you want.
Just because the online hosted .com version has a free option, it doesn't mean that it's the place to start.
If you're looking to start a blog, you can self-host for far less than you think and always scale things up in the future as you grow.
If you do start on WordPress.com, the good news is you can move to self-hosted in the future if you change your mind! It's free and doesn't take long, trust me.
Frequently asked questions
Is WordPress free?
Yes and no. As I touched upon above, the main software is open source, meaning it is free to download and self host.
The software can also be hosted by Automattic and a basic account is free. You need to pay to unlock a wider range of features and use your own domain name.
So how much does WordPress.com cost?
Upgrading to the premium version allows users to integrate Google Analytics, install premium themes, access more storage space and monetise their sites using ads.
Premium subscription plans cost between £3 and £36 per month depending on the features.
Where do I download WordPress?
You can download the open source files from the open source website.
Some good web hosts include a one-click install of the software on their hosting plans.
How do you install WordPress?
You can install the open source files directly to your web hosting server, or for an easier approach, choose a web host that has one-click WordPress install like Bluehost.
How to use WordPress?
Check out this great guide
How to start a WordPress blog?
This is good guide to starting a blog with WP
What is the best WordPress hosting?
I recommend Bluehost for hosting your first site. They are very affordable and include one-click installation with their hosting.
What are the best WordPress themes and templates?
Check StudioPress or Themeforest for some of the best themes around
Where do I get WordPress help and support?
I recommend joining some useful related Facebook Groups
Conclusion
I hope you found this guide and comparison useful and you now feel like you're in a position to make a decision between WordPress.org and WordPress.com.
I've outlined the difference between the two and some reasons why you would want to choose one over the other.
If you choose the flexible, self-hosted version like I did, then remember to get yourself a good web host and choose a suitable domain name.
I would love to hear from you. Which option did you go for and why? Let me know in the comments below and share your thoughts with us.
Cheers,
John