If you're a business or a blogger then your website is at the heart of what you do.
A huge part of growing any business is Word of Mouth. It's one of the oldest and most effective forms of marketing there is.
And in today's society, word of mouth marketing likely comes from Social Media.
With the ability to share content amongst online communities in a matter of seconds, people are sharing and consuming information at a faster rate than ever before.
Social Media is quickly becoming the place to be for businesses and bloggers in 2019 and beyond.
It's a valuable place to network and get your brand seen and heard.
We all know that.
So what would happen if an online giant like Facebook blocked your website from their platform?
Well that's exactly what happened to me.
Facebook blocked my website.
And trust me when I say IT SUCKS being blocked.
Your audience can't share any of your content.
You can't link to your site — on groups, messenger or to friends.
You can't even add your website to your Page while blocked!
And it turns out I'm not alone.
Other people were having the same problem I was.
So I wanted to put together a short guide for people in the same boat.
In this article I'll explain how I found out my website was being blocked by Facebook and ultimately how I got my URL back again.
How to tell if your website has been blocked by Facebook
My personal blog is relatively new.
I've been blogging here for around a month now at the time of writing.
But when I published my very first post, I couldn't share it to Facebook.
I clicked the 'Share' button on my post… and Sh*t!.
Facebook hit me with an error message.
"Your message couldn't be sent because it includes content that other people on Facebook have reported as abusive."
Whaaat?!
How can my website already be flagged as abusive?
It's brand new!
I tried again.
And again.
Always the same thing.
I knew I was in trouble, so I ran straight to Google to see what this error meant.
And there it was. In black and white.
Your website and it's content has been blocked by Facebook
This was bad timing when I was trying to launch a new blog.
I went back to Google.
"How to unblock your website from Facebook"
So much information. Some old, some new.
This was three weeks ago.
And I've spent that time testing various methods to get my URL unblocked on the social network.
So I've put all of this together into some brief methods below on how to get your domain unblocked from Facebook.
How to get Facebook to unblock your website
So you think your URL has been blocked from social media?
Or you've found out through a similar process as me above.
Firstly – we are going to need to get Facebook to confirm this, and then we will contact them and ask them to unblock our URL.
To confirm that your website is blocked, we are going to use a tool called the Facebook Debugger.
Using the Facebook URL Debugger Tool
Head over to the Debugger tool at https://developers.facebook.com/tools/debug/
Enter your website URL into the box and then click the 'Debug' button.
If your website has been blocked by Facebook, you will likely be faced with an error that looks something like this.
If you don't get this error, and the debugger runs as normal — then check your 'Warnings That Should Be Fixed' tab for an error that says "URL blocked".
If you have neither error, then your website might not be blocked.
I was faced with the error: "We can't review this website because the content doesn't meet our Community Standards. If you think this is a mistake, please let us know".
Submitting a report to Facebook
Facebook is notoriously difficult to contact.
They don't accept normal emails like most businesses do and instead they require you to submit bug reports or support messages.
So in order to get our URL unblocked, we are going to need to get in touch with them in as many ways as possible.
Note that on the Debugger error message above there is a link to inform Facebook that you think this is a mistake.

This seems like the next logical step, so click that link and fill out the form.
This form files a report with Facebook that they might or might not investigate.
But it's a step in the right direction.
I went on to fill this same form in about 3 times over the duration of my block.
I also got a couple of friends to submit the same form complaining that they can't share my content on Facebook.
In this position – anything you can do to get their attention helps.
Report a Problem to Facebook
Another step you can take to get Facebook to eventually notice you — is to report your block as a 'problem'.
To Report a Problem, click on the Help Center button in the top right corner of Facebook.
Then select Report a Problem from the list.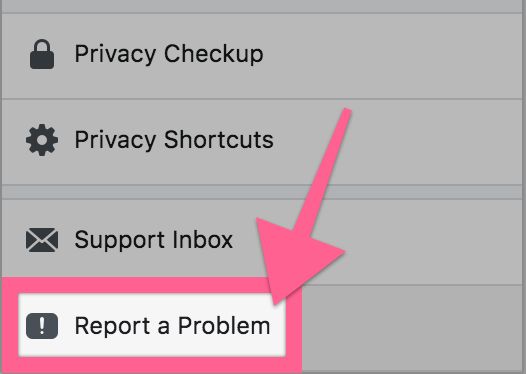 From the pop up screen, select Something Isn't Working
Now fill in the form to file a problem report about your blocked URL with Facebook.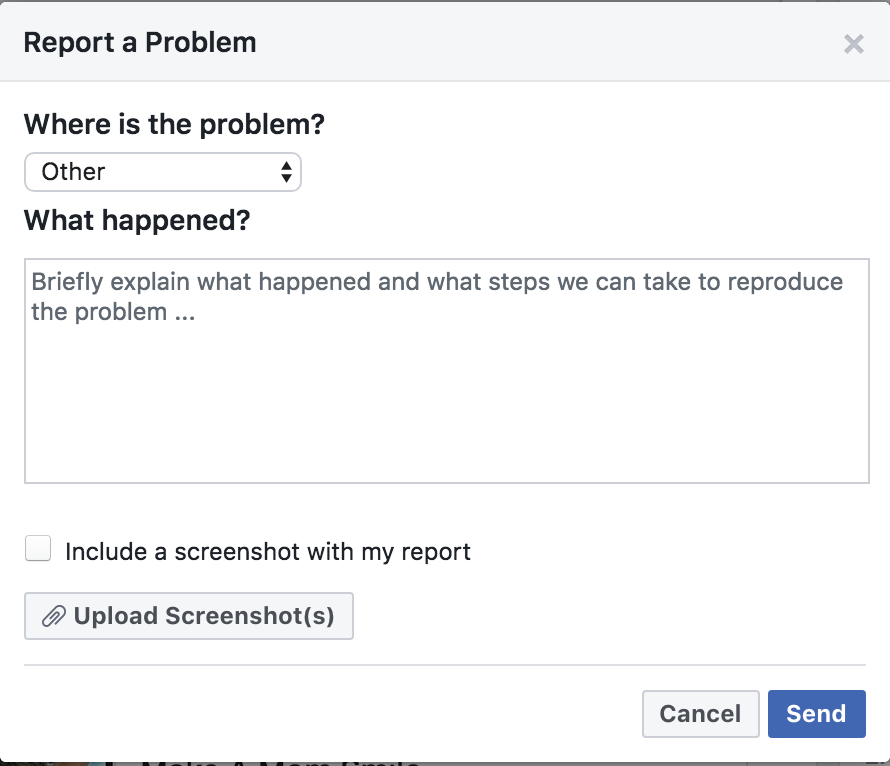 Please note that Facebook can take a long time to respond to these reports — if you are lucky enough to get a response.
This is not a concrete method of contacting Facebook, but it could help motivate them to unlock your website.
Speak to Facebook's Ad Department
Now… this is something I haven't read anywhere else —  and I think it's the most effective method of them all.
The thought came to me while I was racking my brains thinking of the best way to get Facebook to listen to me.
Think about it logically.
If you want to get a businesses' attention, you want to hit them where it hurts (which is usually where they make money).
In Facebook's case, we all know how they make money…
Businesses buy ads. Facebook makes money.
So I thought that if I contact Facebook Ads Business support instead of acting like a general user, then they should take me more seriously.
And I was right.
Here's how to contact Facebook Support as a business.
First visit https://www.facebook.com/business/help
Note that for this to work, you might need an Ads Manager account.
If you don't have one – go ahead and create one now.
Scroll down on this page and click the Get Started button under 'Find answers or contact support'.
On the next page, choose Policy & Account Security from the options available.
So Facebook don't actually have an option for what we want to do.
But this is where we start to make some progress!
Scroll down on the next page and choose 'Chat with a representative'.
Live chat?!
They don't give that option to standard Facebook users!
This will open a basic form that you can use to describe your problem.
Fill in all the details and then click 'Start Chat'.
This will open a familiar Messenger chat window with a Facebook agent.
After a few seconds they will get in touch and you can have a live chat about your website block.
Great right!?
For added effect I threw in a few comments about really wanting to run some Ads, but I can't because my URL is blocked.
Here's how my conversation went.
So this is the method that ended up working for me.
This live chat agent followed up with the review team and dropped me a personal email a few weeks later to let me know my domain was unblocked.
So that proves it… if you want to get in touch with Facebook — do it as a business, not a general user.
But note that I still needed to follow the previous steps for this to work.
I had to file a report first, in order for this chat agent to follow up with the review team.
Speaking to them via live chat just helped speed the process up.
So what happens now?
The message above is the last correspondence I have had with Facebook.
But that's all I really needed.
And far more than I expected!
They admitted that it was just an error and I hadn't done anything wrong to get blocked.
All in all, it took just over 3 weeks to get my website unlocked.
But it was worth the wait.
Life on Facebook is pretty good right now.
I was finally able to link my blog URL to my Page.
More importantly my URL is now shareable on Facebook.
I've tested it in Groups, Pages and on my Newsfeed.
So it looks like everything is back to normal!
I will leave you with a few quick tips that helped me:
Facebook might not let you know that you are unblocked, so keep checking the Debugger tool for any changes
Try using a URL shortener if you really need to link someone to your website. I had some luck with Tiny URL, but it didn't always work
Be patient. It took three weeks for my block to be lifted, so don't expect it right away
2021 Update: Other things to try
So recently a few readers have been saying in the WordPress comments on this article that the Facebook Ads chat option above is not showing for them (even though it still shows for me).

I did some quick research into this and it turns out that Facebook only shows the chat option to certain users and there's no general rule as to who they display it to.

So I have done some digging around for you and I've found a few other options that you might want to try that could work for you.

Have a try of the options below and let me know in the comments if it gets your website unblocked on Facebook.
Try this direct messenger link for the Facebook Ad Support Team and ask them to release your URL from being blocked on Facebook

Remember that if your website has been blocked for genuine reasons that violate Facebook's terms of service, then the support team will not be able to unblock your website.
Message Facebook through the Facebook For Business page on Facebook.

This could be another option for you if none of the above options have worked so far. Again, they will not be able to help you if you're website is genuinely blocked. But they might be able to help unblock your URL if it has been blocked by mistake like mine was.
Now it's over to you
Has your website been blocked by Facebook? Drop a comment below and let us know about it.
Has this post helped you in some way? I would really appreciate a share.
Cheers,
John